ABOUT US
In 2006 Tanzania Private Select Safaris joined forces with Bush Trucker Tours in Nairobi Kenya, who share the same philosophy and offer the same high quality products. Like the wildebeest that freely migrate between Tanzanian and Kenya, we jointly decided to combine our itineraries under the single name of 'Serengeti-Mara Fly Camps,' to provide camping safaris as well as combined camp and lodge alternatives.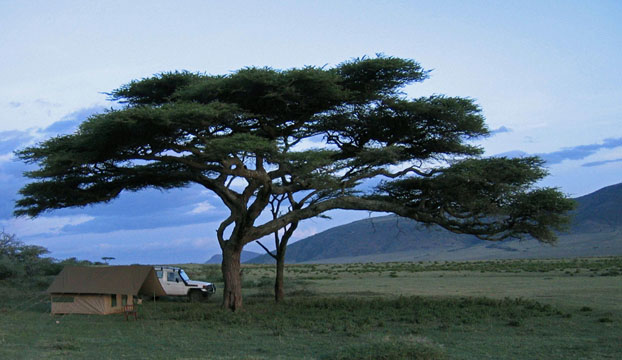 Tanzania Private Select Safaris (the mother company of Serengeti-Mara Fly Camps) was registered as a legal safari operator in 2003. Prior to this, Managing Director Aafeez Jivraj had been working closely with several leading safari companies and travel agents across the world for over 15 years in an advisory, consultancy and ground operating capacity.
During his consultancy years Aafeez gained invaluable experience, in all aspects of safari work including team-building, logistics and operations, which complimented his vast knowledge on Tanzania's flora, fauna, animal behavior and bush survival. Nonetheless he felt the existing safari operators where missing essential ingredients he wanted to include:
INDIVIDUALITY:
Providing a unique safari specifically tailored to individual interests and needs
CLASSIC SAFARIS:
Encompassing the Unpretentious Style and Comfort previously associated with safaris of the 1930s
EMBRACING NATURE:
Experiencing the true quintessence of Africa, under canvas, unhurried and undisturbed
Capturing the charm and philosophy of classic safaris from a bygone era, when discovering Africa was an intimate journey for the free spirited, combined with creature comforts and affordability. With Aafeez's vision for his visitors' to live and breathe 'a lifetime of memories' in the African bush in mind, he launched Tanzania Private Select Safaris.
TPSS (Tanzania Private Select Safaris) replicates the style portrayed in the movie classic 'OUT OF AFRICA.' Your freedom and safety in our private camps is supported by good old-fashioned service; including a camp manager, personal chef, waiters and tent attendants dedicated to you.
All our camps are in secluded locations; offering spectacular views or nestled amongst the dabbled, shade of trees. Utmost privacy is the core of your camp experience, accompanied by your guide, driver and crew, far from crowds and noise.