Kilimanjaro
Duration: From Arusha 5 and a half days ascending, 1 and a half days descending
Length: 100 km / 62 miles total; 62 km / 38 miles to summit; 38 km / 24 miles descent from summit
Elevation: Machame Gate (1,490 m/4,890 ft) to Uhuru Peak (5,895 mts /19,340 ft) and descent to Mweka Gate (1,980 mts /6,500 ft) (other routes available)
Kilimanjaro is globally referred to as the 'Roof-Top of Africa,' and is a dormant volcanic mountain consisting of three volcanic cones, Kibo, Mawenzi, and Shira. It is the highest mountain in Africa and the highest freestanding mountain in the World at 5,895 metres or 19,341 feet above sea level (the Uhuru Peak/Kibo Peak).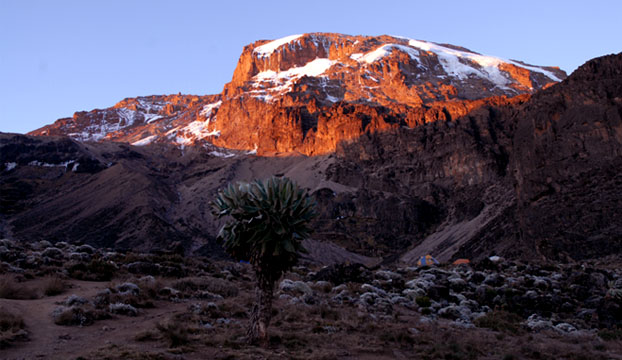 There are six official trekking routes up Kilimanjaro: Marangu, Rongai, Lemosho,Shira, Umbwe and Machame. Of all the routes, Machame is by far the most scenic albeit steeper route up the mountain, which can be done in six or seven days. The Rongai is the easiest and least scenic of all camping routes with the most difficult summit night and the Marangu is also relatively easy, but accommodation is in communal alpine huts.
Kilimanjaro reflects the true essence of adventure in Africa, attracting explorers since Europeans first sighted its snow peaks in the late 1800s. The trek up the mountain covers dense alpine forest, open moorlands, undulating rocky ground and valleys and Africa's only alpine desert leading to the rim wallof Kilimanjaro'sglaciated cone peak.
Machame Route- known as the Whiskey Route
Recommended 7 days 6 nights trek with (Tents). Read more..
Mt. Meru
Duration: 4 Days 3 Nights trekking from Arusha
Length: 46 km / 29 miles round trip
Elevation: 3,065 m/10,056 ft gain Momella Gate (1,500 m/4,921 ft) to Mount Meru (4,565 m/14,977 ft) and r.eturn
Description: At 4,565-m/14,977 ft, Mount Meru is the second highest mountain in Tanzania and the fifth Highest in Africa. Mt. Meru is also the only isolated Strato volcano in East Africa that is still active.A massive eruption 7,800 years ago shattered Meru's upper slopes and formed an oblong 8-km/5 mi wide caldera that is open towards the eastern side.The main summit is on the caldera's western edge, perched above a dramatic and still active Ash Cone inside the caldera.Meru is just below the permanent snowline altitude, so there are no glaciers or snowfields on its slopes.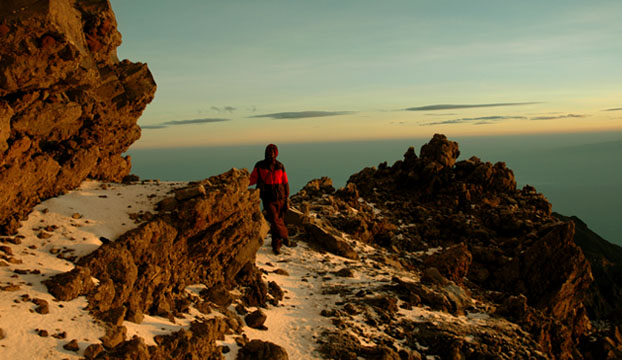 It is best to allow 4 days for climbing Meru, since it involves a large elevation gain, but you can do the trek in 3 or 5 days.
There are huts available to climbers on the mountain and firewood is supplied.
Your ascent to the summit involves hiking through grassland and forest on the mountain's lower slopes where you can see animals grazing.Higher, you hike and scramble along the breathtaking crater rim to the summit.
Aside from being a rewarding and picturesque trek in its own right,Mt. Meru is also great acclimatization for Mt. Kilimanjaro climb.
Mt. Meru detailed trekking (Huts) itinerary. Read more..