KILIMANJARO MACHAME ROUTE – KNOWN AS THE WHISKEY ROUTE
Recommended 7 days 6 nights trek
Tents
Description: Machame is a beautiful route up Mt Kilimanjaro that allows you to experience the southwest and south sides of the mountain, as you go up one way and down another. Porters carry all clients' equipment and supplies and erect the tents at each camp, whilst a cook prepares all your meals. Meals are served in a dinner tent or on a blanket outside. This makes the Machame, which is referred to as the "Whiskey Route," better suited to more adventurous hikers, and it also rewards clients with more varied views than Marangu Route. From late afternoon sunsets at Shira, to the misty revelations of Kibo's great Barranco Wall, the Machame Route offers the spunky hiker a continuous scenic slide show. The Machame Route is normally completed in 6 days, and this greatly helps your acclimatization. The Machame Route takes clients high to Lava Tower (4,630 mts /15,190 ft) on day 3 bringing you down for an overnight at Barranco Camp (3,950 mts /12,960 ft) and this intermediate ascent and descent is the secret to a successful acclimatization, and is the reason that this route has a high success rate.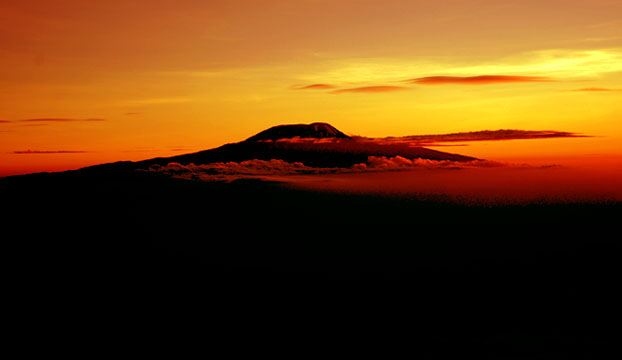 Machame Route in Brief
7 Days 6 Nights Track
Day 1
Transfer to gate – hike to Machame camp (2850 m)
Departure from Arusha will be at around 8:30 am for Machame gate (a 2.5 hrs transfer), where you will complete the entry formalities and have lunch. 
You start trekking through dense mountain rain forest to Machame camp, located just above the forest zone, in the heather zone, with views of the summit.
5-7 hrs trekking
Accommodation: Machame camp (L&D).
Day 2
Machame – Shira camp (3810 m)
Trek up a steep path leading into arid moorland, passing tall grass, rocks and bearded heather. Continue through an eerie landscape of lava rocks, caves and foamy streams framed by exotic plants until you reach the Shira plateau, where camp is set. 5-6 hrs trekking
Accommodation: Shira 2 camp (B, L, D).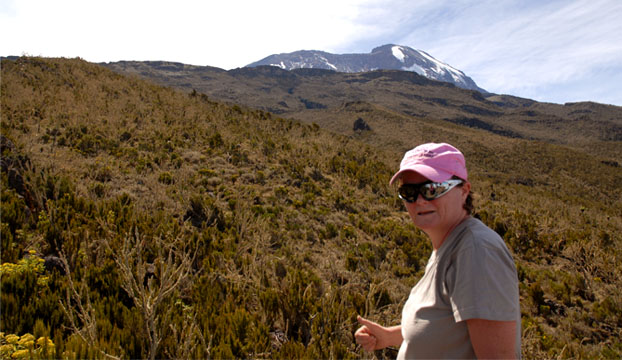 Day 3
Shira 2 – Lava Tower – Barranco camp (3976 m)
You proceed steadily upwards over vast ridges to a 300 ft volcanic plug named 'Lava Tower' for lunch (ca. 4 hrs). In the afternoon you descend the steep trail into the Great Barranco Valley. Barranco Camp is set in a valley of giant Groundsels (SeneciaoKilimanjari) and giant Lobelia.
Total trekking time: 6-7 hrs.
Accommodation: Barranco camp (B, L, D).
Day 4
Barranco camp – Karanga camp (4995 m)
Trek to Karanga Valley Camp, at 13,000ft (3,950 mt), set between Barranco and Barafu Camps. The day has vitally important for acclimatizing. The day begins with a scramble up the steep 'Barranco Wall', then traversing up and down slopes and valleys, which carved their way into the mountain's southern face. Kibo's glaciers loom above to your left and the jagged peaks of Mawenzi jut into the African sky at just under 17,000 ft straight ahead.
Stop inKaranga Valley (after 3-4 hours of trekking) for lunch.
Afternoon to relax or to take excursions from camp
Accommodation: Karanga camp (B, L, D).
Day 5
Karanga camp – Barafu camp (4673 m)
From here the trail turns steadily uphill. The temperature grows colder and the landscape more sparse approaching Barafu Camp. Barafu Camp is set on a small, exposed flat area of a ridge, acting as a perfect base camp from which you will make your summit attempt at the midnight hour. Total trekking time is 4-5 hours, with lunch upon reaching camp. The afternoon is yours to rest and prepare for the long night ahead. Eat and drink as much as possible before retiring early to your tent for rest and sleep. 
Accommodation: Barafu camp (B, L, D).
Day 6
Barafucamp – Uhuru Peak (5895 m) – descend to Mweka camp (3068 m)

A midnight wake-up call and a hot cuppa will be the start of your marathon hike of 12-17 hrs.No later than 1am start trekking in temperatures ranging from just below freezing (at midnight) to between -12 deg. C (10 deg. F)/ -23 deg. C (-10 F) on the summit (just before dawn).
The winding path of endless switchbacks will slowly take form and shape in the shadows of the Ratzel and Rebman glaciers at early dawn, and behind you the spires of Mawenzi are silhouetted against the red glow of the sun rising behind the clouds. 
After about 6 hrs of slowly ascending, you arrive at the edge of the crater at Stella Point – 19,000 ft (5790 m) on the crater rim. This marks the end of the steep part of the hike. Thereon it's a gentle slope to Uhuru Peak (ca. 1 hr), the true summit of Kili at 19,340 ft (5896 m). The strength to ascend this final piece is monumental. After a short time at the summit, start descending along a steep path of scree back to Barafu Camp. After some rest, summon your strength again to descend further to Mweka Camp for your last night on the mountain. Accommodation: Mweka camp (B, L, D).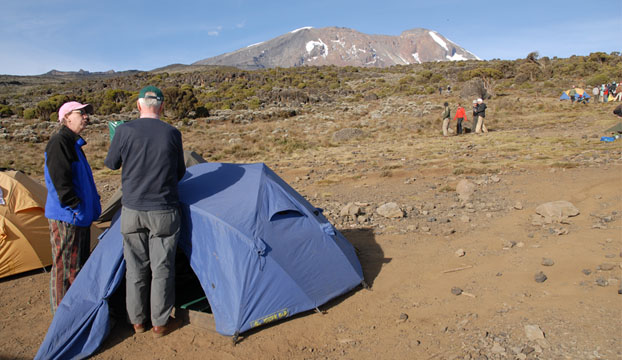 Day 7
Final descend – Transfer to Arusha
It's an easy 2-3 hours trek through rain forest down the final part of the trail back to the Mweka Gate. After receiving your certificates, lunch and farewell to your crew, return to Arusha. Accommodation: hotel in Arusha (B, L)
Included in price:
• All accommodation (including two hotel nights, before and after the climb) at BB
• All transfers from and to Arusha
• Full camping equipment (own sleeping bag recommended)
• Standard option: up to 15 kg of luggage carried for you on the mountain
• Lightweight option: up to 8 kg of luggage carried for you on the mountain
• 3 potter per person + 1 Guide + 1 cook
• Park fees, camping fees and mountain rescue fees
Not included:
• International Flight to Tanzania
• Tips for your guides
• Personal insurance,
• visa
• vaccinations
• Rescue transport costs