Serengeti Migration
Best Period: January – March
10 Days 9 Nights Safari
Daily Program:
Index: L=Lunch, D=Dinner, BB=Bed/Breakfast, HB-FB=Half-Full board
Day 1
Arrive at Kilimanjaro International Airport
Meet and greet at the Airport with your driver guide before transferring to Mt. Meru Game Lodge, for dinner and to overnight. HB
Day 2
Lake Manyara National Park
Set of forMtoWaMbu, where your driver/guide will stop so you can taste an assortment of tropical fruits, papayas, mangos, bananas and more. Continue a little further for a game drive in Lake Manyara National Park, famous for its spectacular bird life that dwells close to the water's edge. Its magnificent woodland is home to forest elephant and timid antelopes, and it is not uncommon to see lion or leopard amongst the shaded branches up high.
Dinner and overnight: Lake Manyara Serena Safari Lodge FB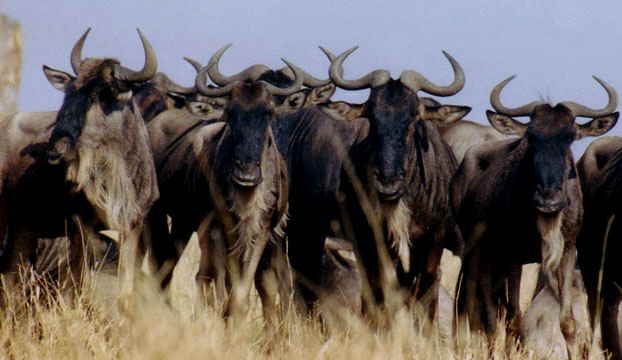 Day 3
Lake Manyara National Park – Ngorongoro Crater
Drive to Ngorongoro Crater and after a refreshing lunch decent 2000 feet onto the crater floor, where a great variety of wildlife that lives in the second largest Caldera on earth. Experiencea solitary game-drivein the late afternoon, as most people have left the crater-floor. Silent beautybeneath soft rays highlights increased animal activity as the sun fades. Wrap up warm for nights at the Crater Rim are always chilly.
Dinner and Overnight: Ngorongoro Serena Safari Lodge FB
Days 4 – 9
Serengeti National Park
Passing Ngorongoro crater rim, descend through really impressive landscape to Oldupai Gorge,known as the 'Cradle of Mankind,' where man's first footsteps were discovered. Continue on to the heart of the Serengeti plains (via the shifting sands) entering the park at Naabi Hill Gate, proceeding to camp with an en route Game Drive.

You have plenty of time to explore the Serengeti, one of the most beautiful National Parks in the world,boasting an incredible selection of wildlife. Your game drives will follow the wildlife's seasonal movement, which during this period, offers spectacular viewing of approximately 2.5 million animals heading south to the rains and fresh grass. Also enjoy visitingNgong Hill and the Moru Kopjes – known as the 'Islands in the Sea of Grass'.
Our safaris have no limit on mileage and time on game drives.
Mid February the wildebeest move to the sort grass plains to give birth around Gol Mountains and kopjes.You will see a lot of wildlife action during this period.
Dinner and Overnight: Serengeti Special Campsite
Day 10
Serengeti National Park – Arusha
After your final morning game drive you will be transferred to Seronera Airstrip for an amazing flight over the Serengeti, the Crater Highlands of Ngorongoro and the Great Rift Valley, back to Arusha. Pick up at Arusha Airport and transfer according your following program. HB