CAMP SET UP
OUR TENTED SAFARI STAFF: Our driver /guides will take care of you throughout your safari. The camp cook provides excellent food from dawn to dusk. Waiters / Tent Attendants are your combined 'Camp Butler,' at your service 24/7. They will erect, arrange and maintain your tent(s); seeing to your needs and comfort, including serving refreshments and providing hot water for your shower.
Our Tents: are uniquely designed room tents; airy, spacious and three times the standard size used by other operators in Tanzania. The size is 3 x 3 meters square by 2 meters high, allowing an average person to stand comfortably. Each mosquito-protected tent is equipped with comfortable camp beds, bedding, bedside tables and lamps, a lockable safari luggage trunk plus additional furnishings.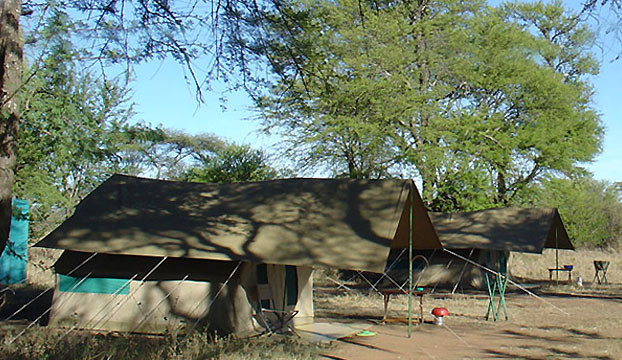 The Adjacent Shower Tents and WC: cubicles are 2 meters by 2 meters and include bucket showers that provide hot showers of 20 litres. Please note conserving water is always a priority on camping safaris but this will not compromise your enjoyment. The WC is the same size as the shower cubical and involves a long drop contained by a 'thunder box' (Toi Box) that covers the long drop. This is topped with ash from the kitchen and campfire every morning. This system also avoids insect attraction far beyond the chemical toilet system. Please note we do not use chemical WC's simply because we believe they do not belong in nature. When we disassemble our camps, waste is buried and no harmful chemical residue enters or contaminates the ground.
The Dinning/Mess Tent: is an open-plan design equipped to suit all weather conditions and it is always positioned facing the best view. Fully equipped utensils include porcelain tablewear; glasses, silverware and evenings start with sundowners around a roaring campfire. A supply vehicle transports staff, camp equipment and all accessories, as well as food and refreshments.
Cuisine: is delivered to the camp either by road or air (depending on the camp's location), every 4 or 5 days. Meat is delivered in packed ice and vegetables in cool containers. We take exceptional care to ensure all food is handled and stored hygienically. All kitchen staff gets medically screened annually, in accordance with Tanzania's health and safety regulations. All salads and uncooked vegetables are sterilized using solvents and diluted vinegar, and only filtered & purified water is used for drinking. If you have a particularly sensitive stomach you may wish to consider abstaining from salads and opting for bottled water.
Our Cuisine Style is wholesome, home cooking. Fresh and tasty food combining European dishes with selected African recipes. Special dietary food can be accommodated with advance notice. Sample meals include:
Breakfast: fruit of the season, cereals, toast, tea & coffee, eggs of your taste with sausages, bacon, fried tomatoes and potato hash.
Lunches are usually A La Carte. Picnic lunches are provided for Full Day Game Drives.
Dinner: includes a Starter, Soup, Main Course, Dessert, tea or coffee (accompanied by a liqueur if you so wish). Dinner is served with good red or white wines from South Africa.
All camp meals are cooked over open fires and our specially designed 'trunk ovens.'
Drinks: Non-alcoholic beverages, complimentary wine and cold beers with dinner. A fully stocked bar including spirits is also available on a 'tab' system and is individually tallied on your last night in camp. The option of quoting for a Fully Inclusive Safari is also available to you.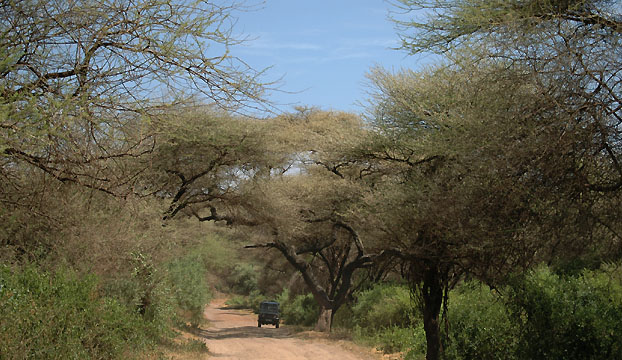 OUR UNIQUE CAMP STYLE: dictates the use of 'Special Campsites,' giving you ultimate privacy in the most picturesque and secluded spots in the wilderness. Our style and concept is best reflected in the movie 'OUT OF AFRICA'.
There are no fences separating you from hyenas, jackal, lion, elephant, baboon, zebra and buffalos, which may well visit the camp – but do not be alarmed, you are in safe hands and wildlife likes nothing better than tiptoeing through camp without disturbing you or anything else. Rest assured that our faithful night watchmen will 'keep an eye' and wake us if anything really exciting and worth watching appears. No other safari brings you closer to nature and wildlife than our Select Tent Safaris. Our style safaris provide high standards in Mobile Tented Safaris within Tanzania.