Safari Serengeti & World of Craters
Travel Period: July – October
14 Days 13 Nights Safari
Daily Programme:
Index: L=Lunch, D=Dinner, BB=Bed/Breakfast, HB-FB=Half-Full board
Day 1
Arrive at Kilimanjaro International Airport
Meet and greet at the Airport with your driver guide then transfer to Mt. Meru Game Lodge for dinner and overnight .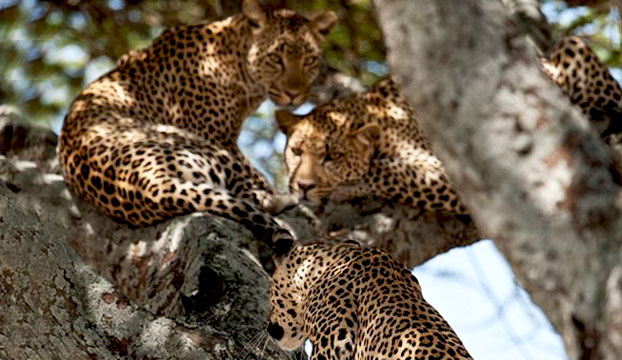 Day 2
Arusha – Lake Manyara National Park
After your safari briefing with your driver/guide set off for a game drive in Lake Manyara National Park. Stop at Mto Wa Mbu, and enjoy an assortment of tropical fruits, papayas, mangos, bananas and more. Continue a little further to Lake Manyara National Park, famous for its spectacular bird life that dwells close to the water's edge. Its magnificent woodland is home to forest elephant and timid antelopes, and it is not uncommon to see lion or leopard amongst the shaded branches up high.
Dinner and Overnight at Lake Manyara Serena Safari Lodge FB
Day 3
Lake Manyara National Park – Ngorongoro Crater
Drive to Ngorongoro Crater and after a refreshing lunch decent 2000 feet onto the crater floor, where you will a great variety of wildlife that lives in the second largest Caldera on earth. Experience a solitary game-drive in the late afternoon, as most people have left the crater-floor. Silent beauty beneath soft rays highlights increased animal activity, as the sun fades. Wrap up warm for nights at the Crater Rim are always chilly.
Dinner and Overnight: Ngorongoro Serena Safari Lodge FB
Day 4
Empakai Crater
Very few people experience this extraordinary crater, secretly nestled beyond Ngorongoro's main Caldera, hidden amongst fertile grasslands that unfold into a prehistoric landscape. Olmoti Crater, the Embulbul Depression and Loolmalass lead to the secret crater of Empaki (2700m). The Caldera is lined with a 600m steep, forested wall; its floor covered with an emerald lake – and is the seasonal home to millions of flamingos, pelicans and other tropical, water birds. Old, reclusive buffalo drink peacefully below; whilst beyond the rim, a magnificent view spreads across the Great Rift Valley, including Lengai's smouldering mount and the simmering shores of Lake Natron. This rugged, untouched environment is testimony to a time when the world was a bubbling cauldron. An armed ranger will accompany the adventurous that wish to descend onto the crater floor.
Dinner and Overnight: Ngorongoro Serena Safari Lodge FB
Important: Unforeseeable events like heavy rain leave the track to Empakai impassable. In these cases we will explore Olmoti Crater.
Day 5 – 8
Serengeti National Park
Passing Ngorongoro crater rim descend through the really impressive landscape down to Oldupai Gorge, known as the 'Cradle of Mankind,' where man's first footsteps were discovered. Continue on to the heart of the Serengeti plains (via the shifting sands), entering the Park at Naabi Hill Gate before proceeding to camp with an en route Game Drive.
You have plenty of time to explore the Serengeti, one of the most beautiful National Parks in the world, boasting an incredible selection of wildlife. Your game drives will follow the wildlife's' seasonal movement, which between December to March offers spectacular viewing of approximately 2.5 million animals, heading south towards rain and fresh grass. From July to October the great herds head for the Masai Mara to the North.
Our safaris have no limit on mileage and time on game drives.
Dinner and Overnight: Special Campsite in the Serengeti (Private Campsite) FB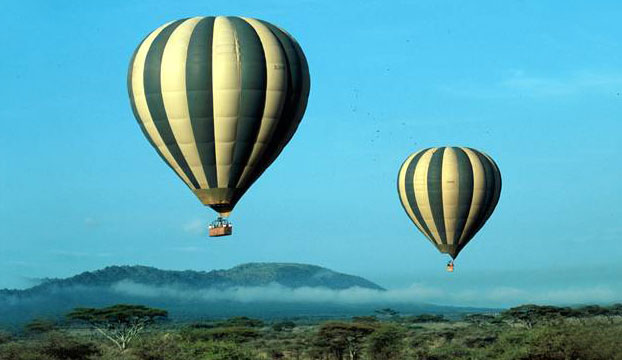 Serengeti Excursion
On request we book balloon safaris in the Serengeti, which take-off early morning, offering a spectacular sunset from an eagle's viewpoint, an exhilarating flight and unforgettable adventure. After your flight (of approx one hour) enjoy a champagne breakfast on the Serengeti plains before returning to your camp at about 09.30hrs.
Day 9
Serengeti National Park – Lobo Area (Serengeti North)
Spend the day in the Lobo area's endless plains in Northern Serengeti. Here you will have the chance to stretch your legs, but look out for baboons, buffaloes and hyenas. Enjoy a picnic lunch at the Lobo Springs, before heading for Bologonja, the Klein Camp area and 'Gagoti,' famous for its residential leopards (which we will do our best to spot for you).
Dinner and overnight: Lobo Wildlife Lodge (Basic Lodge) FB
Day 10
Lobo Wildlife Lodge – Mara River
After breakfast drive to the Mara River. Here the river offers spectacular views of wildebeest crossing in there thousands. Frantically swimming against the current and ducking the gapping jaws of awaiting crocodiles, their lives hang precariously in the balance.
Dinner and overnight: Lobo Wildlife Lodge (Basic Lodge) FB
Day 11
Serengeti Lobo – Lake Natron
A stony track over black soil leads through wild and cliffy landscape. Reaching the 'Seven Corners' offers a remarkable view over Lake Natron surrounded by Shompole in Northern Kenya. In Tanzania the lake fringes 'Gelai' and the smoking volcano 'Oldonyo Lengai.' Steep and towering, it is the local Maasai's holy mountain. A tough track leads to Lake Natron Bush Camp, alongside Ngarasero River.
Dinner and overnight: Lake Natron Bush Camp (Basic lodge) FB
You may walk carefully to the nearby gorge 30 minutes away where a waterfall and natural Jacuzzi is surrounded by palms – truly an oasis amongst a desert.
At 2:00 am you may wish to participate in an optional climb to the peak of Oldonyo Lengai. It is an active volcano so please strictly comply with the instructions of your guide. The chance of seeing eruptions or effluents of cold lava (black and about 500°C) is high.
From the peak you can see into the surrounding craters and right along the craggy 'Gregory Rift,' which is part of the stunning Great Rift Valley that snakes through Tanzania (starting in Zimbabwe and finishing in Ethiopia). Lake Natron lies below Lengai, directly beneath your feet!
Dinner and overnight: Lake Natron Tented Camp (Basic lodge) FB
Day 12
Lake Natron – Tarangire
Today's drive long and exhausting; and its best to relax in your vehicle seat, watch the passing scenery and drift away! Following the vertical wall of the Great Rift Valley, our track takes you back to civilization and on to Tarangire National Park.
Dinner and overnight at Tarangire Safari Lodge / Tarangire Sopa Lodge FB
Day 13
Tarangire National Park
Enjoy a morning and afternoon game drive in Tarangire National Park, renowned for its huge herds of elephants and giant Baobab trees. The mighty Tarangire River winds its way through the park and nourishes it all year round, attracting large groups of wildlife, particularly during the dry season.
Dinner and Overnight: Tarangire Safari Lodge FB
Day 14
Tarangire National Park – Arusha
After an early morning game drive set off for Arusha, where you will be transferred to your onward flight home or your designated hotel.
HB